Ever since TikTok came around, it instantly started reaching the top. In 2022, it boasts of being the most downloaded app worldwide with more than a billion active users.
This massive audience made TikTok a place to see and be seen by everyone, which became a game-changer for brands. The short-form videos now help brands reach wider audiences, increase brand awareness, and get their products in front of millions.
However, unlike the well-known Facebook and Instagram, it's not quite clear how brands can best use TikTok to their advantage.
Wondering how you can successfully start promoting your brand on TikTok?
Then you've landed in the right place! This beginner-friendly TikTok Guide for brands will help you understand how the algorithm works, why you should use TikTok to scale your business, and how to get the most out of it. Let's jump in!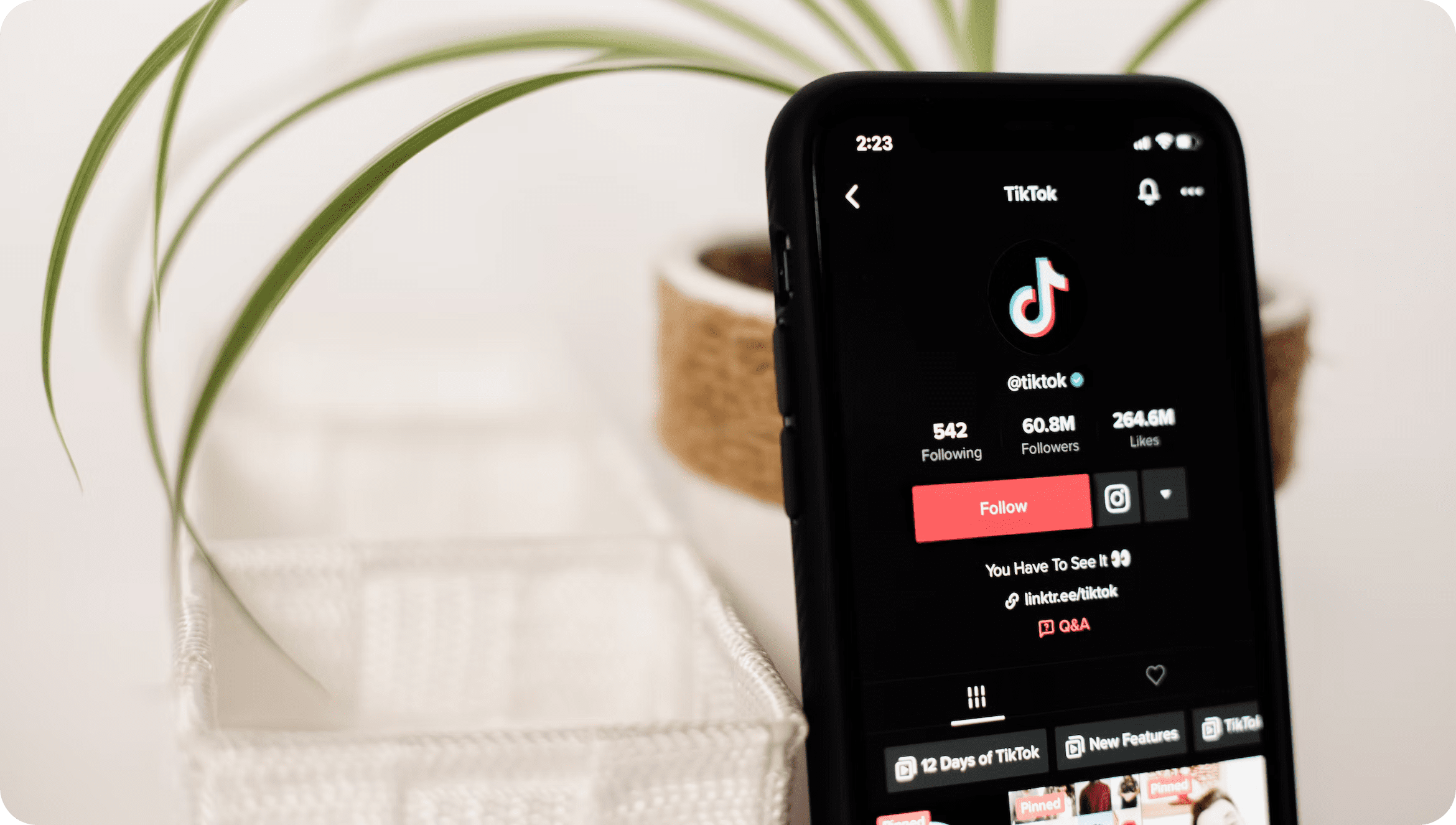 .
First things first, what is the TikTok phenomenon?
.There are plenty of perks to advertising on TikTok. It's the platform you cannot afford to miss out in 2022 if you're looking to grow your business. Here's why:
☞ Massive Audience
One of the biggest appeals of TikTok is its huge audience. A young, active audience with fresh views and ease of interaction makes TikTok very tempting for businesses.
In fact, it was the most downloaded app from 2019 to 2022, racking up over 3.5 billion downloads so far. It also boasts 1.2 billion active users, which is expected to grow, as more and more people tend to download the platform.
☞ Enormous Exposure Potential
People love videos. Especially short videos. As one of the fastest-growing social networks, TikTok gives brands access to millions of potential views.
What's even more important is that TikTok's audience is highly engaged. Studies show that Tiktok users open the app 8 times a day and actively use it for 95 minutes per day — more than an hour and a half, which is a super impressive engagement rate.
Take Duolingo for example. They've been able to turn macro TikTok trends into their own original pieces by using their owl mascot.
By stepping into the TikTok trends, they've reached enormous success. Just a couple of months ago they were at 800k followers…now they have 5 million. Not to mention 100.2 million likes and a 19% engagement rate.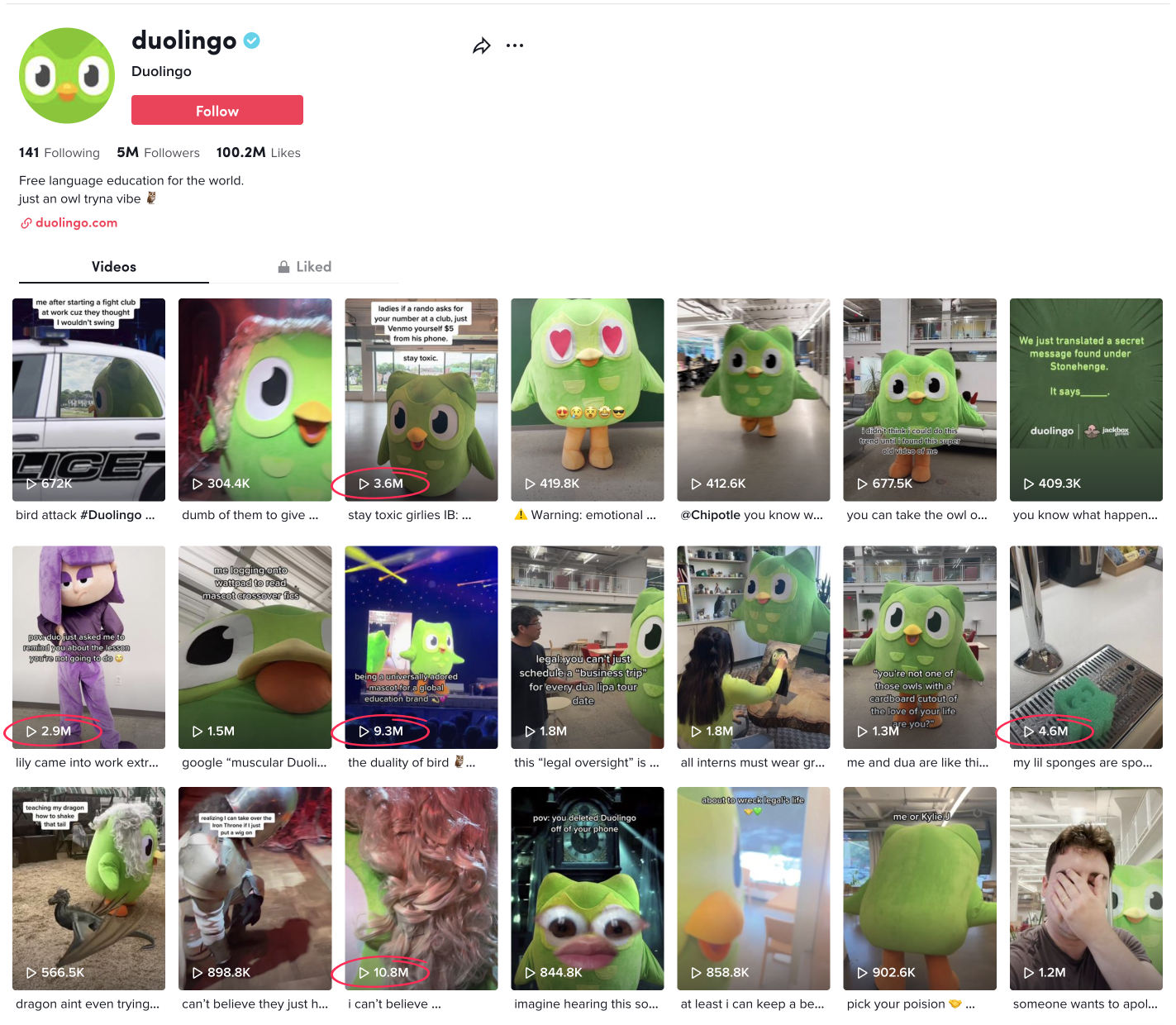 .
Best of all, TikTok is having a tangible impact on their business. Duolingo has skyrocketed to the #1 education category and #3 in App Store's Favorites.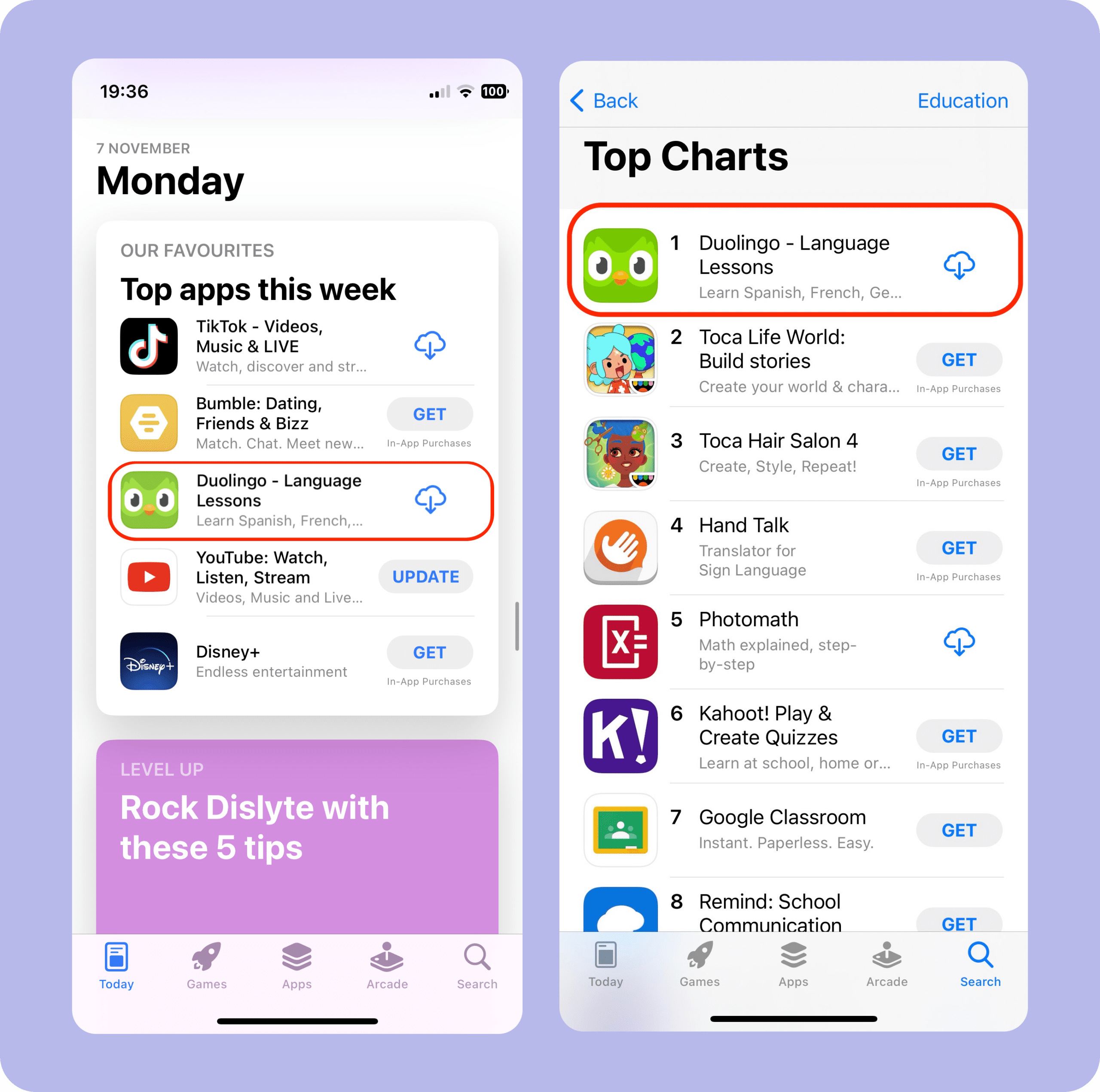 .
☞ The Rise of Authentic Content
TikTok has placed itself on showcasing Raw, Authentic, and Real content. So, brands no longer have to post super polished and overedited content. Because consumers want an emotional connection to brands rather than cheesy and unrealistic ads.
More than this, the TikTok algorithm does not prioritize highly edited content. Thanks to this, it's easier for brands to get closer to their audience with authentic, and realistic content.
Having a hard time trying to create content on your own? Use a UGC platform like JoinBrands and quickly create tons of unique and authentic UGC videos from creators all over the USA.
Hop on joinbrands.com now and get your unique UGC fast!

.
Now that you know the perks of TikTok, it's time to show you how to get from zero to hero.
Step 1. Set Up Your Account
.
1. The very first step is, of course, downloading the TikTok app.

2. Once you've got it on your phone, follow the instructions to create an account.

3. Click the "Me" tab in the lower right corner and tap edit profile. Now you can edit your profile picture, username, bio, and social media accounts.
Please keep in mind that you can only change your TikTok username once every 30 days! So be intentional when you change your username because it is limited!
Grab a few tips for a stellar account:
☞ Add your brand category or niche to your username
For example, King Science does a great job of using the category they're in their username. So do the "Chamberlain Coffee", and "Candy Coffee" brands.
Using your niche or brand category in your username it's very beneficial. When your target audience lands on your profile, they will immediately know how they can benefit from your brand.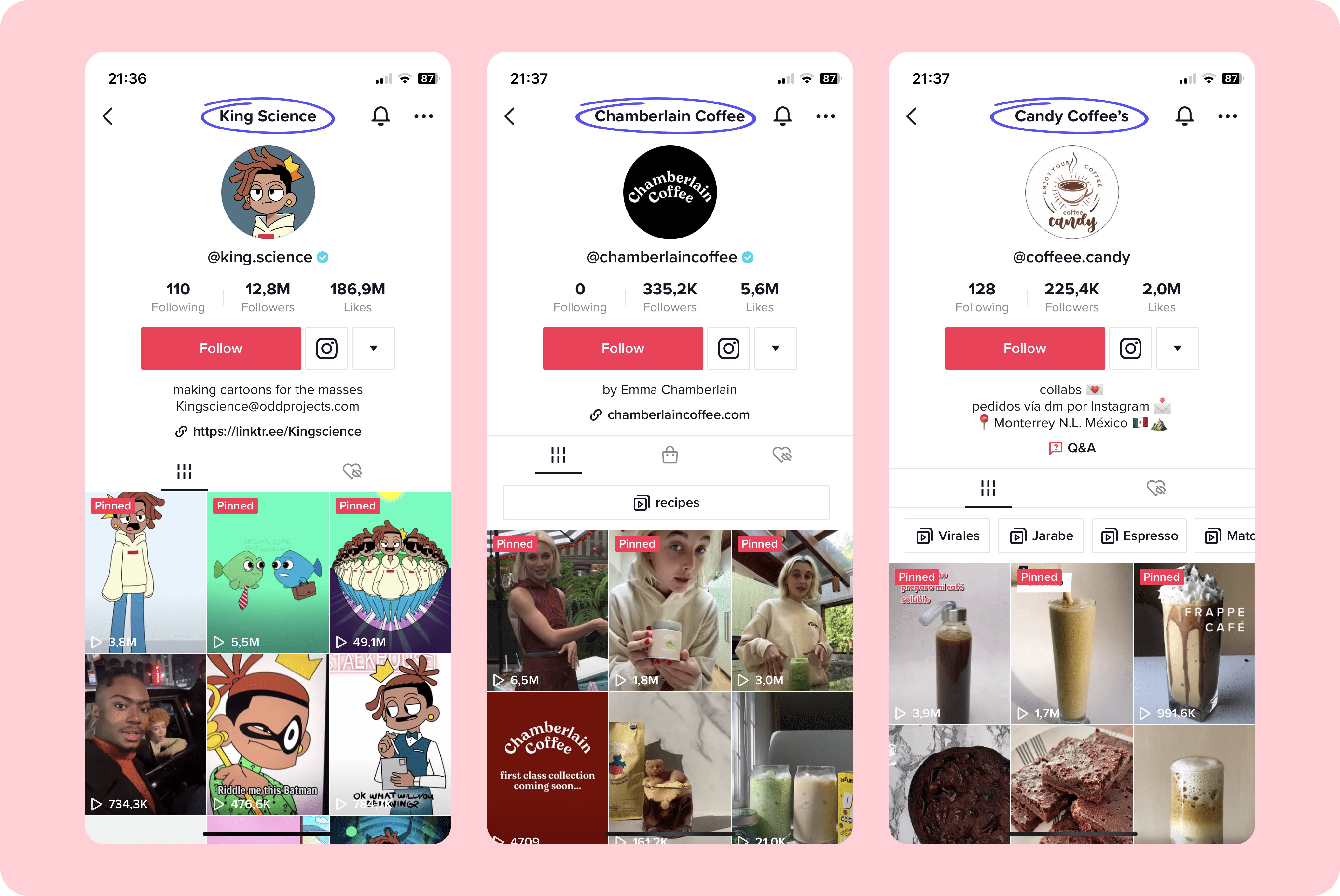 .
☞ Link your Instagram and YouTube accounts
This way people can start following your brand there as well.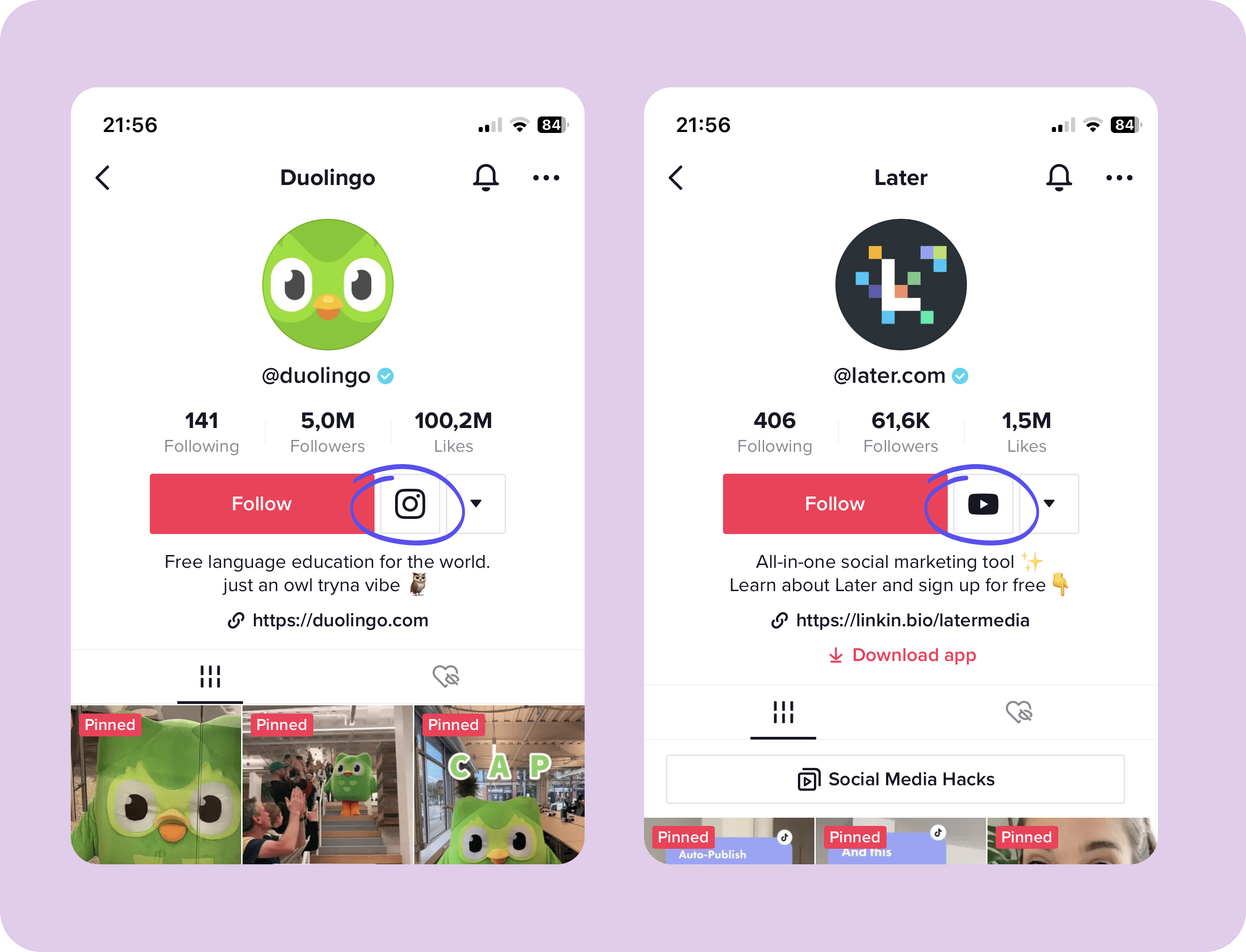 .
☞ Add a call-to-action
If you're promoting a special product, a promo code, or need to guide your followers to a website, use your bio space to tell them exactly what they need to do after they visit your profile.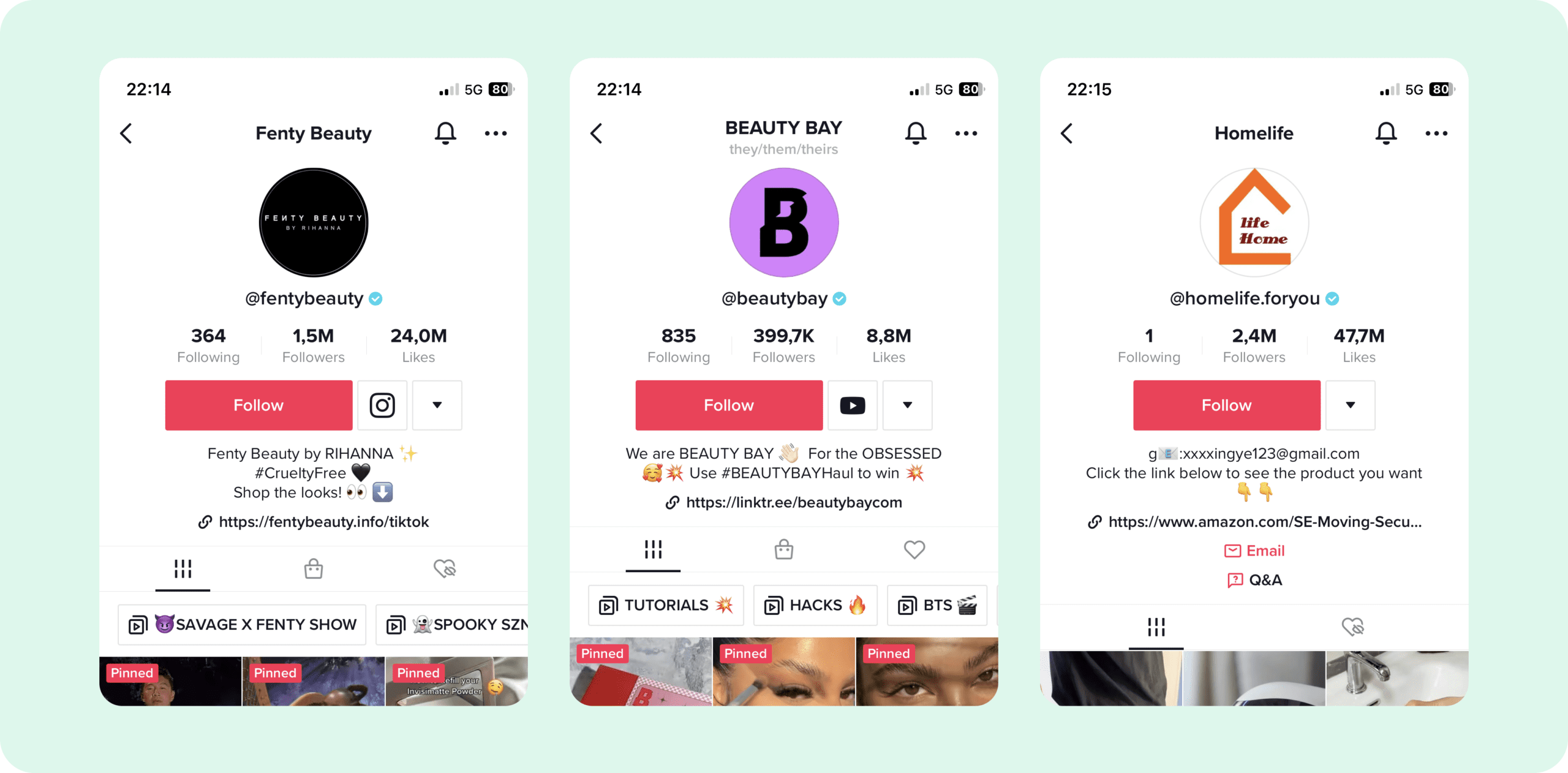 .
Step 2. Switch to a Business Account
.
When you sign up for a new TikTok account, it will automatically be a personal account. However, you can switch to a TikTok Pro account at any time.
A TikTok Business account gives you access to an advanced analytics tool where you can find insights about your audience, reach, and content performance. You can also find metrics like follower growth, weekly and monthly views, and trending videos.
To switch to a Business account, follow the instructions below:

1. Tap the three horizontal dots at the top-right of the screen and select "Settings and privacy"
2. Navigate to "Manage Account"
3. Click the "Switch to Business Account" option
4. Hit Next and select the appropriate Category for your business.
5. Confirm your selection by tapping the Next button
And that's it. You can always switch back to a personal account.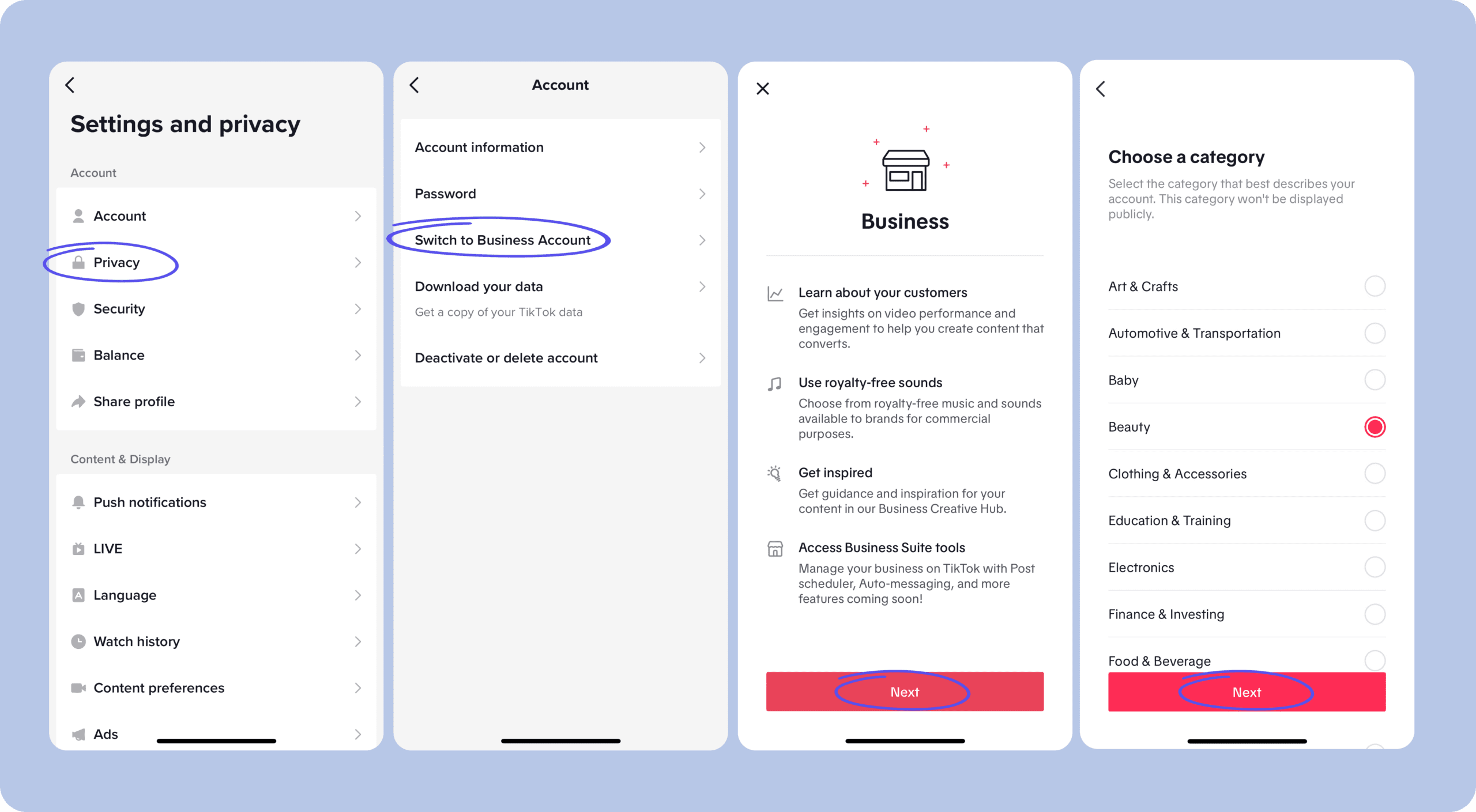 .
Step 3. Get Familiar With The Platform
.
Now that your TikTok profile is ready to go, it's time to discover the main TikTok features.
☞ TikTok's algorithm
One of the coolest aspects that make TikTok such a great platform to invest your time and resources in is its interest-based algorithm. Basically, it tests out different videos to determine which ones will appear on the users For You page.
If simply, the algorithm is testing your videos on other people to see if those people are watching the full video, sharing it with others, commenting, saving it to their favorites, or liking it. If a certain amount of people interact with it, your video goes to more people.
The cool part about the TikTok algorithm is that it is solely based on the content you post. If it is relevant to people, you can expect your content to be viewed by a mass audience even if you have just 100 followers on your TikTok account.
☞ The "For You" page
The TikTok For You page is the first thing a user sees when they open the app and where they spend 99.9% of their time! Basically, this is where everything happens on TikTok!
Getting your videos onto the For You page is essential if you want to reach new audiences and grow your community. It is a form of free advertising that can attract many views and followers.
☞ The "Following" page
This page is very similar to the Instagram feed. The accounts users have chosen to follow on TikTok will appear on their following pages.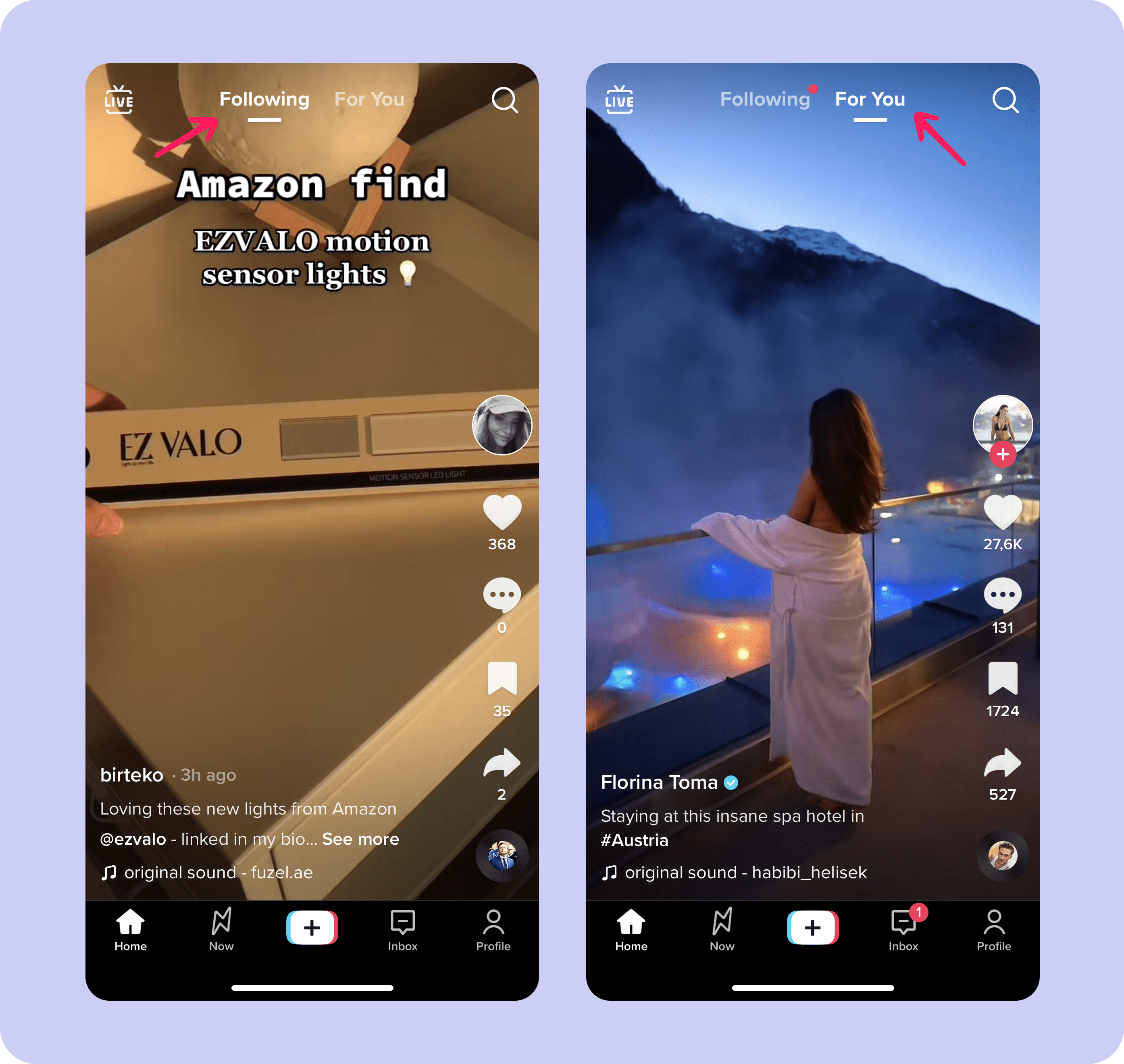 .
Step 4. Find Your Niche
.
When talking about the niches on TikTok, you should keep in mind that broad categories such as fashion, makeup, beauty, sports, fitness, or food don't work. Instead. TikTok algorithm supports far narrower subcategories such as skincare routines, at-home workouts, vegan cooking recipes, etc.
To determine what niche your product belongs to, think about what makes your brand unique, and how your TikTok videos can reflect that. Don't forget that the more popular the niche is, the tougher the competition will be there. So, you might start out making content for a handful of smaller niches and then move on to the biggest ones.
If you nail your TikTok niche, you'll be able to see which of your videos resonate best with your audience, and then improve your strategy as you go.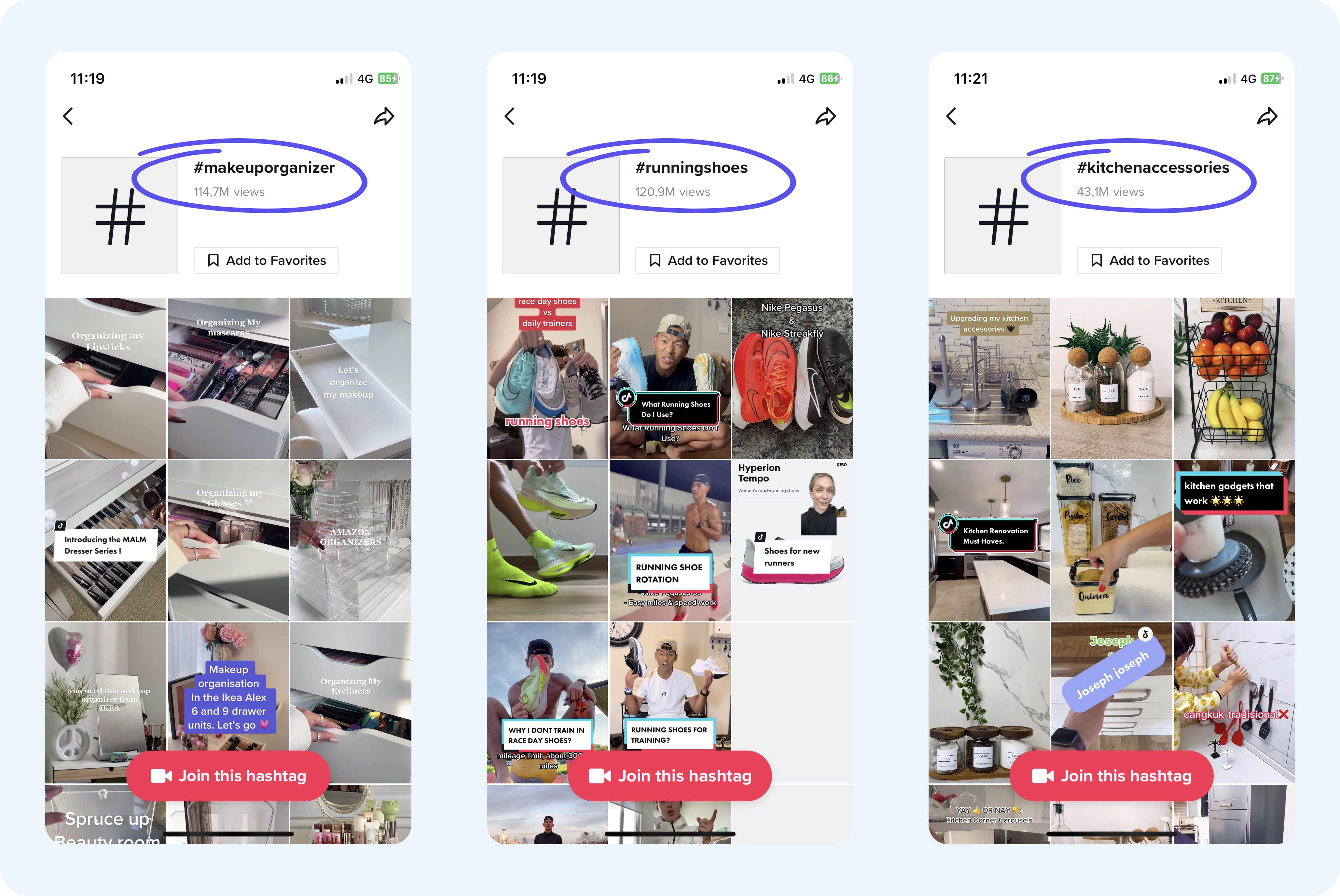 .
Step 5. Master All the TikTok Features
.
☞ Hop onto trendy sounds
TikTok is built on trends including popular, sounds, and dance challenges, and your business needs to hop on them. Harnessing the power of TikTok trending sounds will take your brand awareness to unbelievable heights.
As an app driven by rapid creativity and trends, new TikTok sounds arise every day. As a brand, you can directly find TRENDING SOUNDS!
How? Easily:
1. Go to your For You page
2. Scroll on some videos and click on a random sound
3. See if the sound has between 5000 and 500,000 videos within the last 7 days.
4. If you found a sound that corresponds to these characteristics – it means this sound is trending and you should be using it.
☞ Go on Duets
Duet is a great way to respond or react to another person's video! You can duet on TikTok in all sorts of ways, including reacting to other TikTok videos or perhaps creating comedic dialogues with your friends.
Duets let you respond by cutting the screen in half, so your response plays side by side with the original video. This is a great way to co-sign with other creators and collaborate with trendy videos.
The cool part is that you can even "duet" your videos to maximize your reach.
☞ Try the Stitch
The TikTok Stitch feature allows you to combine two videos, to create a cool and interesting composition. For example, if you're creating a dance video, you could Stitch together different parts of the routine from different people.
Stitching is a fun way to collaborate with other brands and creators to maximize your reach. Plus, it's a great way to get more views and followers by jumping onto another creator's videos.
You can use the stitch features in multiple ways:
◉ Tell a story
◉ Express your reactions
◉ Show off your skills
◉ Collaborate with a viral video
☞ Go Live
Going Live on social media allows you to connect with your customers in real time, which is extremely valuable when you're growing your audience. It's buzzing and has excellent power to increase your brand awareness and create leads and conversion opportunities.
During these interactive live-stream sessions, you can do Q&As, share tips and tricks about your brand, show your latest products, or just engage with your audience.
TikTok Live can be massively beneficial for your brand, only if you follow a few rules:
✅ It needs to be super consistent
✅ It must be unique
❌ What doesn't work on TikTok: Just going live once! You need to consistently go Live for people to recognize you and remember your brand.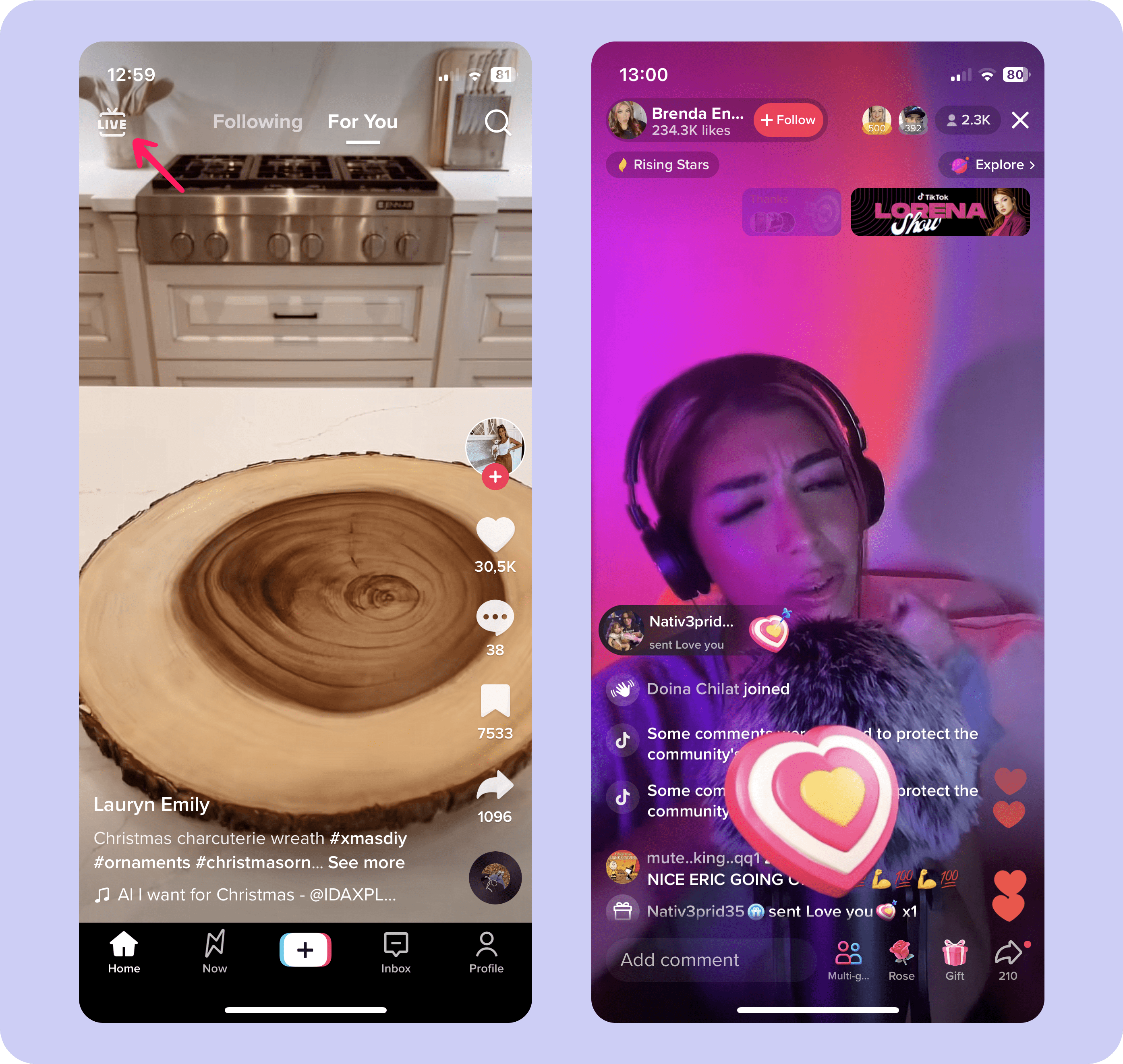 .
☞ Pick the Right Hashtags
Just like the sounds on TikTok, hashtags are a powerful tool you don't want to miss. Hashtags help you increase your organic reach, which is extremely valuable for your business.
You can optimally target your audience and get more users to your content by using hashtags. They also help brands grow their follower count.
There are two ways to use hashtags on TikTok:
1. To categorize yourself
TikTok is trying to understand who you are & who your content should be shown to. If you're using hashtags people have used or liked, the probability of your content getting on their For You page considerably grows.
2. To geo-target
Area-specific hashtags help you get discovered in specific areas around the world. These are extremely beneficial when your target audience is located in a specific area.
However, there are a few crucial rules to know about hashtags:
❌ Don't use massive hashtags like #fyp or #LosAngeles.
❌ Don't use hashtags with more than 1 billion views.
✅ Target hashtags that have less than 500 million views.
✅ Firstly, use hashtags to get categorized, then, use them to geo-target.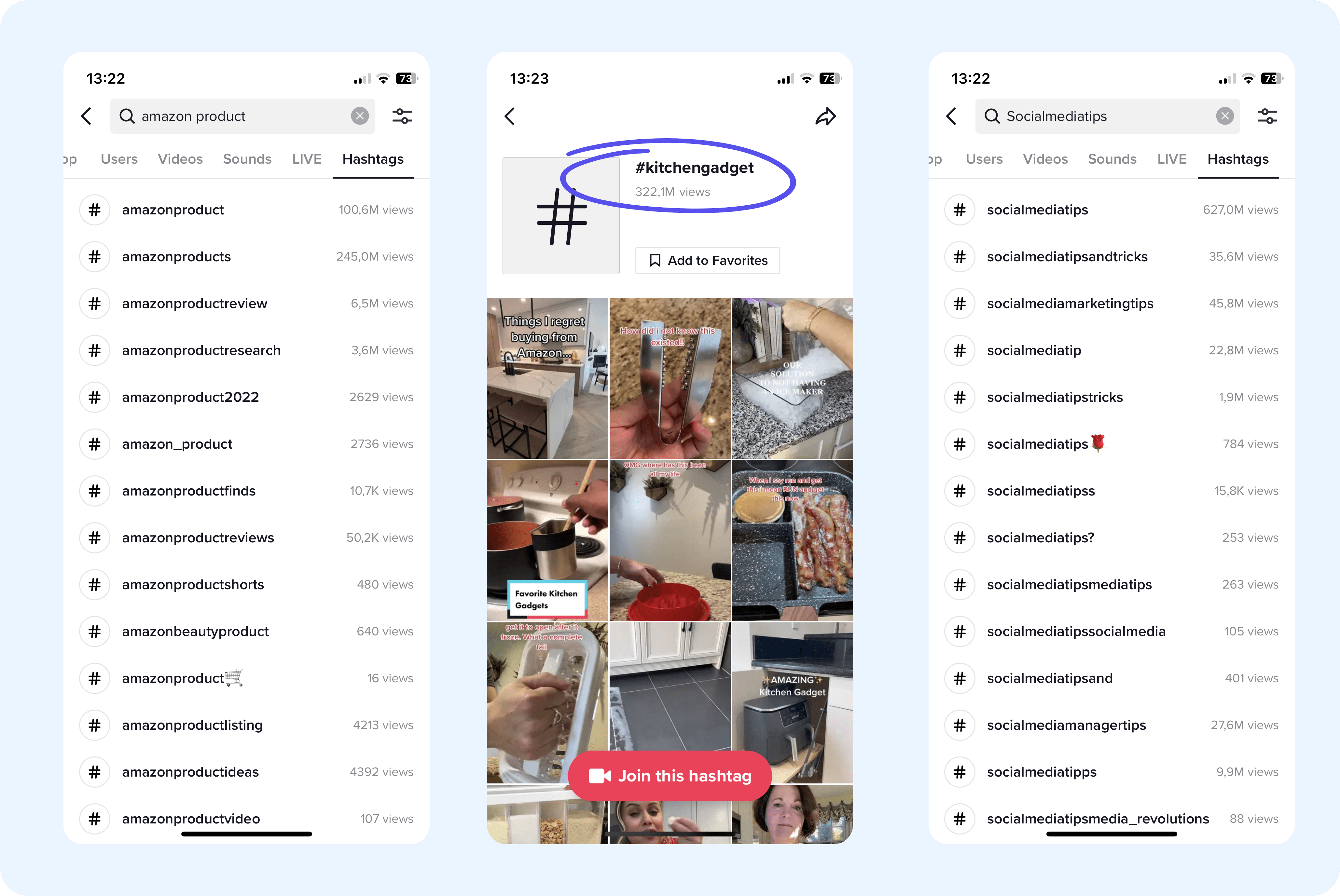 .
☞ Respond to Comments & DMs
As a brand, you need to consistently engage with your audience to grow a community. You don't just post a video and wait for sales to come to you. There's no way to build a community without putting in work, dedication, and consistency.
If you want to be the brand representing a community, spend time in that community, interact with people, and go deep with them.
◉ Reply to DMs
◉ Respond to every comment
◉ Answer comments with videos
Your audience is going to care for you more when they recognize that you're engaging with them.
The cool part about TikTok is that you now have the option to respond to comments with other videos and use the comment text bubble as a title.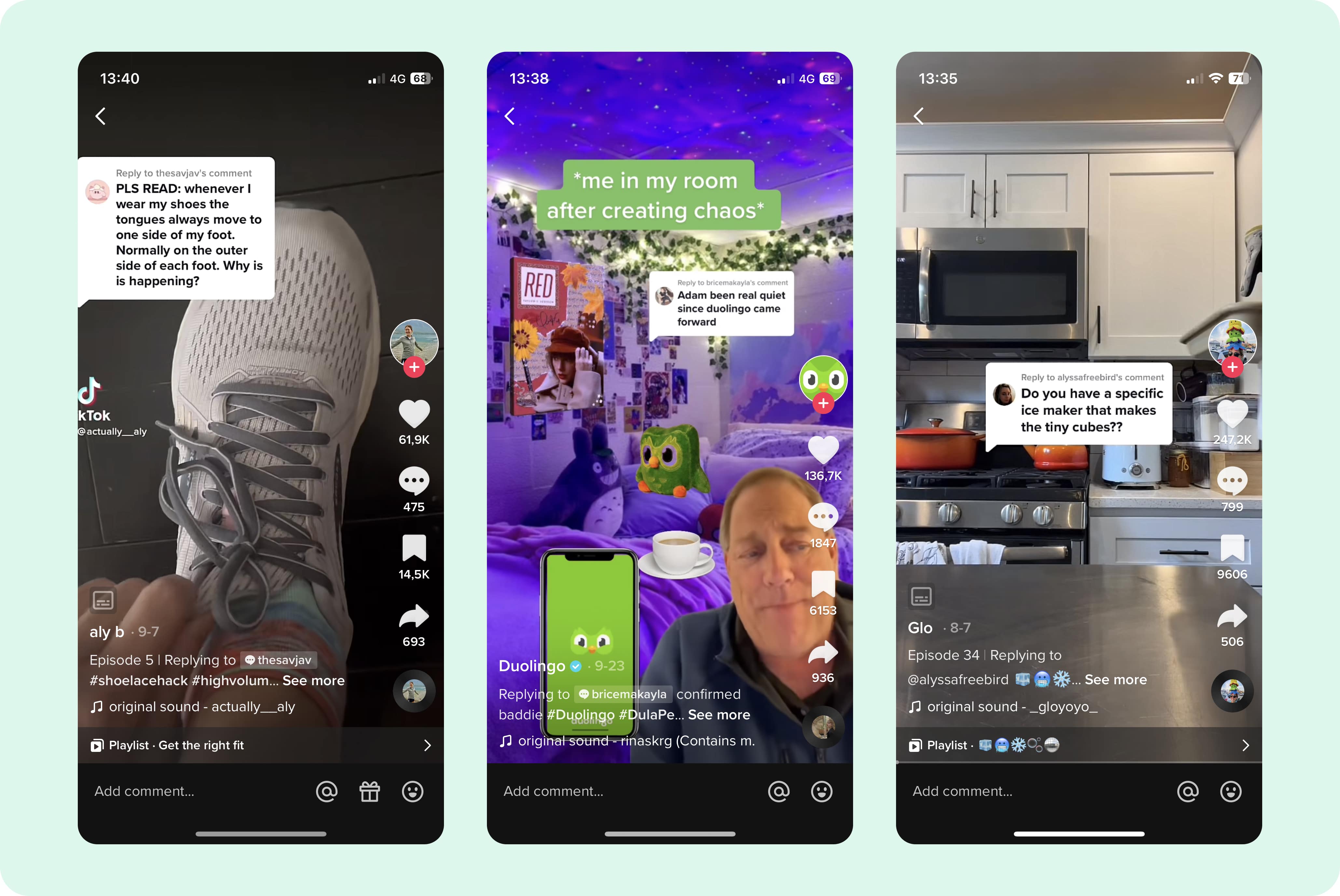 .
Step 6. Run TikTok Ads
.
Besides the free TikTok features, you can also create targeted ads to expand your audience. TikTok has an automated process of creating, delivering, and optimizing your ads, so your brand can benefit from it.
If your target audience uses TikTok frequently, tapping into these ads is essential! By creating video content to pop up in their feeds your brand awareness will soar.
Here are the ad types you can run on TikTok:
☞ In-Feed Ads
In-feed ads appear on your audiences' "For You" pages. These clips are usually 5 – 15 seconds long and have a "Sponsored" label. To increase your ad conversion rate, you can add a pop-up call-to-action button.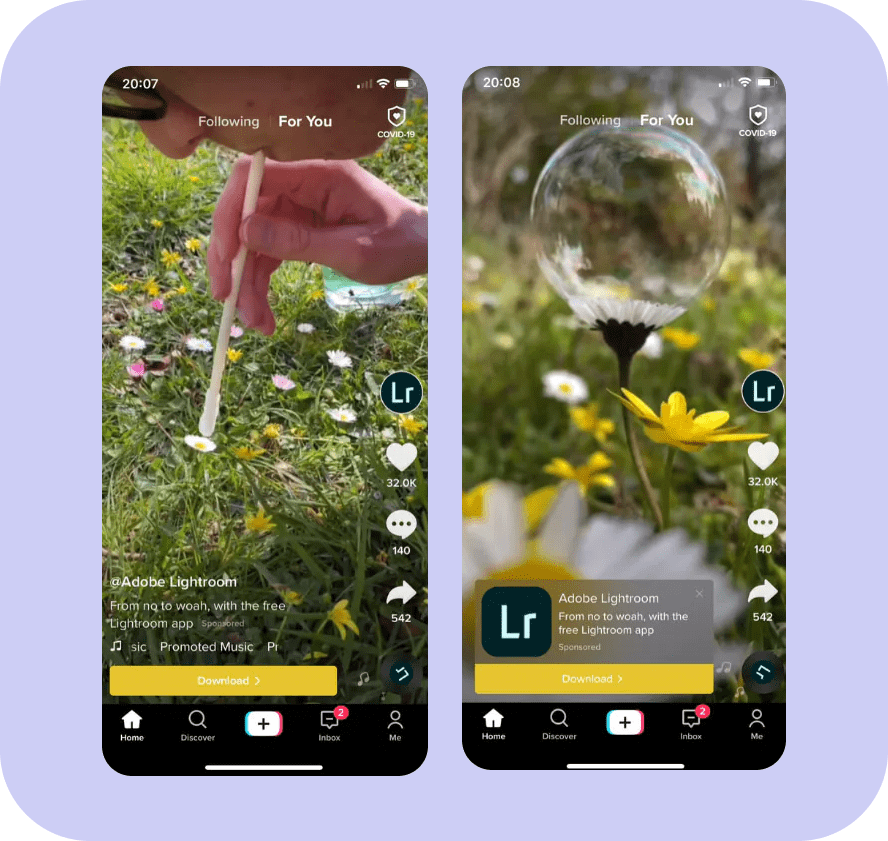 .
☞ Branded Takeover Ads
These ads appear immediately after the user opens the app — presenting a full-screen video to your targeted audience.
Takeover ads are considered TikTok's best option for delivering mass awareness and driving sales since it gets right in front of your target audience.
The cool part of this type of ad is that they can appear as videos, GIFs, or images on the "For You" page — including a clickable link driving users to a landing page or a Hashtag Challenge within TikTok.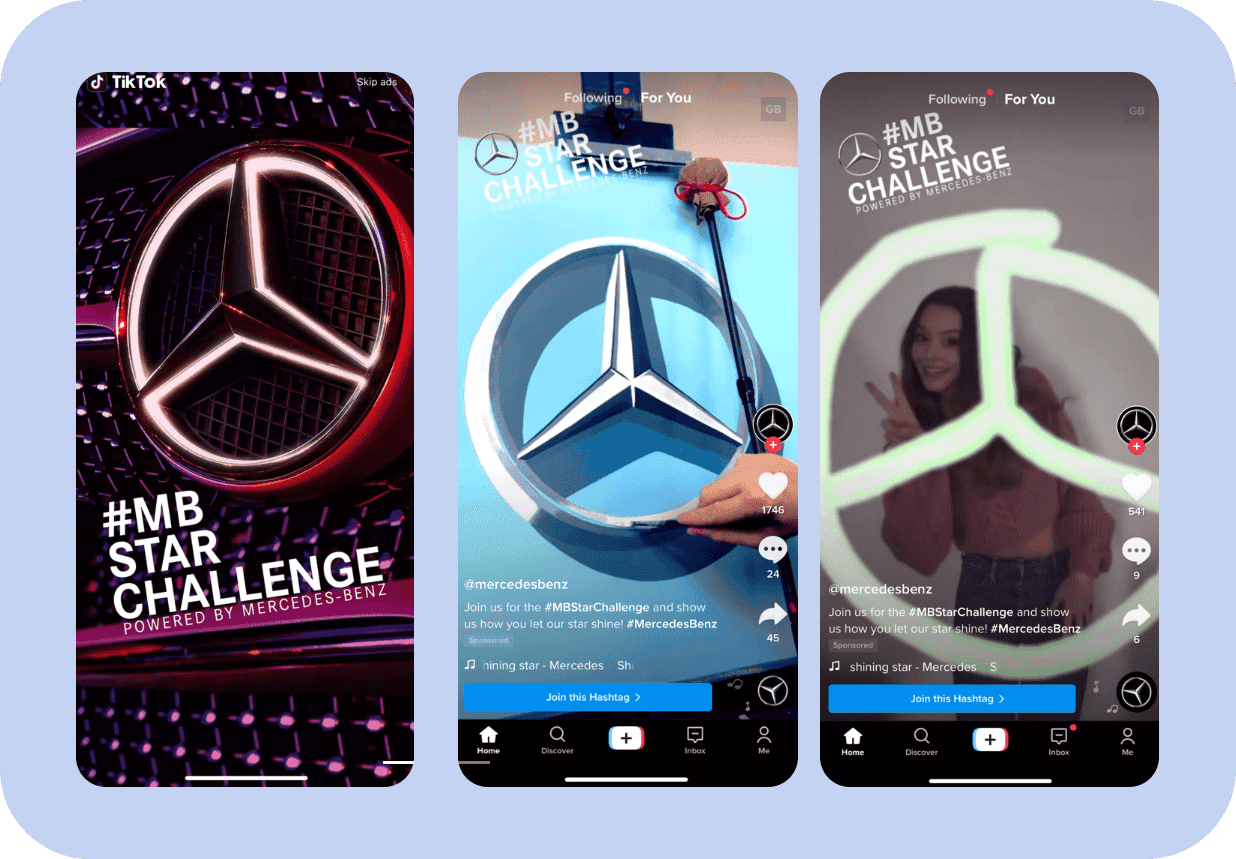 .
☞ Top View Ads
These ads look much like the Brand Takeover Ads. The key difference between these two is that Top View ads pop up 5 seconds after users open the TikTok app and can last up to 60 seconds. In fact, it is the longest video ad option at the moment.
☞ Branded Hashtag Challenges
These are one-of-a-kind ads that are featured on TikTok's Discovery Page. In this ad format, brands partner with TikTok teams to roll out sponsored hashtag challenges. They're a great way to encourage user-generated content and build brand awareness.
The cool part about Branded Hashtag Challenges is that you can have a lot of fun with them! When a user clicks on a sponsored hashtag, they're taken to a landing page on TikTok with the brand logo, a link to their website, a brief description of the challenge, and popular videos using the hashtag. The ads usually last 6 days.
☞ Spark Ads
TikTok Spark Ads allow brands to create campaigns that leverage organic videos that are already trending. It gives you 2 choices when publishing ads:
1. Using your brand's TikTok account's content
2. Using organic posts by other content creators on TikTok (with their authorization)
The fact about Spark Ads is that they do not look like advertisements at first glance, which make them perfect for generating organic traffic.
How to run Spark Ads?
1. If you boost one of your posts, do so through TikTok Ads Manager.
2. Go to Creator Tools & turn on ad settings.
3. This allows you to turn on ad authorization (go to a video, click 3 dots, scroll the bottom line all the way, and click ad settings).
4. Turning ad authorization on allows you to generate a code for that video which brands can use to whitelist organic creator content.
5. You can use this with influencers or on your account.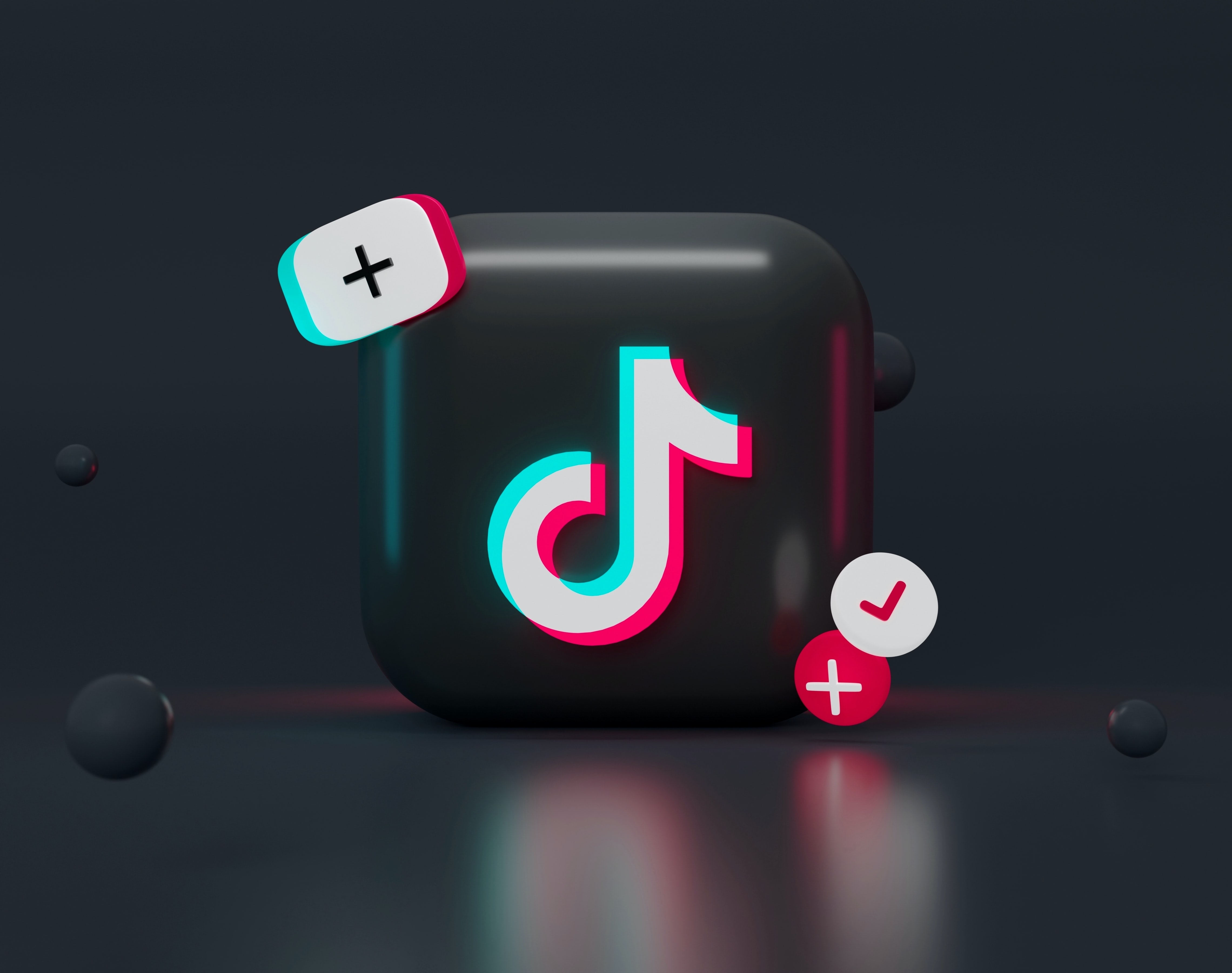 .
Step 7. Track Progress with TikTok Analytics
.
After you've developed your TikTok strategy and have been active on the platform, the next big step is reporting. You need to know if what you're doing is working. The only way to know this is by looking at the data.
The TikTok Ad Manager will allow you to measure and analyze your ads performance in real time.
What to look for in your analytics:
◉ Look for consistency in views over time.
◉ The likes-to-views ratio should be around 1/10 (i.e. a video with 27K views should have around 270 likes).
◉ Comments are hugely important because you can engage with your audience & are more impactful than someone just like a video.
◉ If your comment count is low, start asking people to comment more and engage with every comment.
◉ TikTok prioritizes shares because it means more people are coming to the platform, but I don't prioritize them.
Please note that if you're creating content on TikTok as a Creator account, you won't have access to data. To use analytics, you need to switch to the Business account.
Wrapping things up…
.
Now that you know how the TikTok algorithm works, what features you should be using to get viral, and how to promote your brand on TikTok, it's time to take action.
There are tons of possibilities on the platforms for you to grow! As long as you use your creative muscles, you will be able to get value from your TikTok presence.
See you on the "For You" page!